If you're a long-time WordPress fan you remember Press This. A built-in tool that came with every new installation automatically. You could go to Tools, create a bookmark, and then use that to bookmark pages.
It's easier to just watch this video if you don't know what I'm talking about.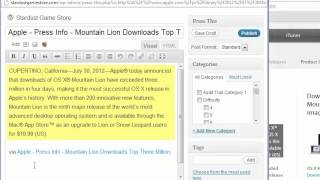 Press This no longer comes with WordPress. It has an "official" plugin, but it's not updated often. And, I don't know if it still works. The last time I tried it, it didn't work for me.
I'm also not sure that the pop up posting box, and all the features Press This had, are necessary.
So, I created WP Bookmark. You go to Tools and choose Bookmarklet to get the code for your browser bookmark. The code goes where you'd normally put the bookmark's URL. Save that bookmark. Now go to any webpage. Click the bookmark, and a tab will redirect you to your WordPress installation's new post page. The title will be that webpage's title. In the content will be the webpage's official description, an image (if an open graph image is available), and a link to that page.
And yes, it works with the latest block editor. In fact, I don't know if it works with the classic editor. It probably does not. I could make it compatible with the classic editor down the road.
I also need to make it so that the image it grabs becomes the post's featured image. I'd love help adding that feature if you're a developer.
WordPress was originally and still is a blogging tool. It deserves an easy way to re-post or bookmark various web pages.
https://github.com/zerosonesfun/wp-bookmark